Finding Your Walmart Gift Card PIN
A PIN is a Personal Identification Number that is unique to your Walmart Gift Card. It is located on the back of your Gift Card in the bottom right corner under the silver scratch-off area.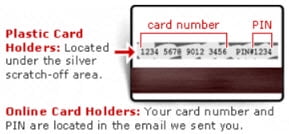 ---
If You Don't Have a PIN
For your security, Walmart.com can only accept cards with a PIN
If you have a plastic Gift Card that doesn't have a PIN, you can use it at a store but you

cannot

use it online at Walmart.com
Without a pin you cannot check the balance of a Walmart Gift Card, but you can trade it in for a new card with a PIN at any local Walmart store or Sam's Club in the United States
Was this answer helpful?
Thank you for helping us improve the Help Center.