Placing an Order

Find and add your desired items to cart
To access your cart, you can:

Edit quantities, Remove or Save for Later in cart

Select Check Out when your order is complete
Sign in or Create an Account. Forgot your password? Click here

Opens in new window

to reset.

Select Shipping and Pickup Options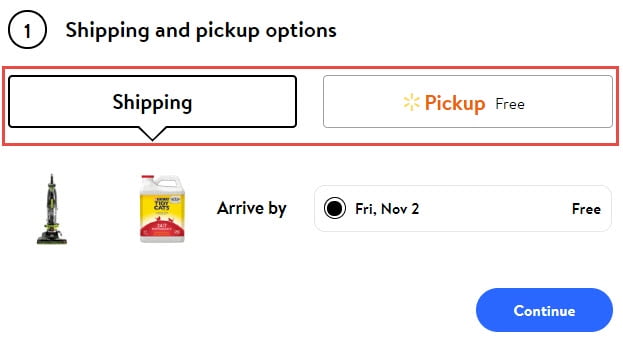 Shipping

Pickup

If you would like to use free store pickup, select a store then Continue. If you do not see your desired store pickup location, you can select Edit and enter a different zip code to see more stores

Enter the name of the primary pickup person and email. Its optional to add alternate pickup person and mobile number to receive text message alerts, then select Continue.Additional information on Store Pickup can be found

here

Opens in new window

Select Payment Method
---
To place an order with your mobile device, go the App Store or Google Play and download the Walmart app.
The steps to place an order above are the same for mobile devices.

Does Walmart have an app for iPad?
Walmart has an app for the iPhone, but not an app for the iPad. The iPad app was retired in the fall of 2015. The technology we use for Walmart.com makes the shopping experience much better than what we can offer in an iPad app. Visit Walmart.com in Safari on your iPad and see for yourself!

If you would like to use the Walmart iPhone app on an iPad:
Download the iPhone app from the App Store on your iPad. Once in the app, the screen may be smaller. If you experience this, look in the bottom right hand corner of your iPad where you will see "1X" with a circle around it. If you click on this, the view will expand to 2X and take up the entire screen of the iPad.
---
Experiencing difficulties? Contact
Customer Care
Opens in new window
for assistance.
Was this answer helpful?
Thank you for helping us improve the Help Center.